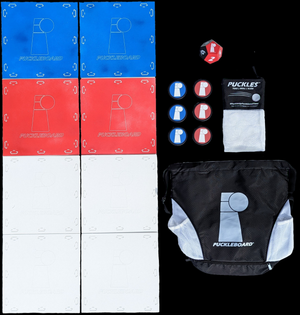 FLAT BOARDS INC
PuckleBoard Game Set
Sale price Price $59.99 Regular price
The PuckleBoard Game is the next household name in tailgating, lawn, beach, deck, and (yes even) indoor games. It's perfect to bring family and friends together for great times!
The gameplay combines elements of cornhole and shuffleboard to create an easy to learn yet challenging to master game that's fun for all ages.
Tired of lugging around heavy boards? The PuckleBoard Game fits in a top quality, bag and weighs less than 5 lbs.
Sick of cheaply made games that don't last more than a season? The PuckleBoard Game is made of highly durable materials and comes with a replacement guarantee.
Looking for variety of gameplay? The PuckleBoard Game has many different versions of ways to play to keep things interesting.
The PuckleBoard Game comes with the pieces for two full boards, six Puckles, and a top of the line carrying bag.